[ Home ] [ Aerobics ] [ Equipment ] [ Fitness ] [ Tennis ] [ Racquetball ] [ Aquatics ] [ Massage ] [ Locker Room ] [ Yoga ]
Tennis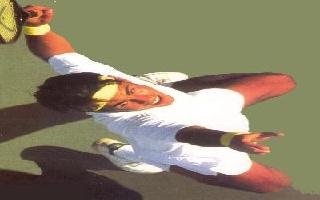 The Fast-Dry surfacing is the most popular type surface in the United States, and is a standard in the clay court industry. Fast-Dry is made from a billion year old Pre-Cambrian metabasalt found in the Blue Ridge Mountains of Virginia. This rock is crushed, screened, and mixed in the precise proportions necessary to produce a stable surface.
Fast-Dry can be used for both new court construction or for top dressing. A layer of these finely crushed, green rock particles is installed over a porous base of crushed, stone aggregate to produce a finished surface. A Fast-Dry court can also be built over existing clay, asphalt, or concrete courts. Many clubs have already converted their hard courts to Fast-Dry to satisfy player demand.
Benefits
Fast-Dry Courts reduce risk of injury: A study on the physical injuries resulting from tennis play was conducted by the University of Calgary, Canada. It was found that one out of every two tennis players was likely to suffer a tennis injury during one 6 month season of playing. This study clearly connects tennis injuries of the lower extremities, back and groin, with two factors: the court surface and the shoe. Surfaces that allow sliding resulted in approximately 75% fewer injuries than surfaces which did not.
Tennis clubs can use these facts to their advantage. If you want your club members to continue playing in older age, it is necessary to provide them with a tennis court surface that will reduce the risks of injury. A Fast-Dry Court is your answer.
Fast-Dry courts are easier on the body than other types of courts. They are more advantageous for the back, legs, and ankles than asphalt, acrylic, or even grass. Fast-Dry is flexible, allowing a player to slide and recover under control, instead of having to slam down onto the court, absorbing the shock in every joint in the body. Doctors praise the flexibility of Fast-Dry, reporting that it reduces the risk of injury. Play it safe at your club: Fast-Dry...making tennis playing safer.
Cooler surface temperature: Compared to other dark colored surfaces that absorb and retain the sun's heat, Fast-Dry retains its moisture and breathes, keeping the surface an average of 20% cooler than hard courts, even during the sweltering days of summer. This means a more enjoyable game for your players.
Slower ball speed for a more enjoyable game: The ball bounce on a Fast-Dry court is uniform and has a consistently slower bounce than other surfaces. This attribute allows longer rallies, a greater variety of strokes and a more controlled game for players. In short, every move by the player is made more effective but less strenuous. Even the lines are easier to call since ball marks are visible to players. This also creates exciting matches for players.
Surface dries quickly after rain: Unlike hard court surfaces, players can be on a Fast-Dry court in a matter of minutes after a rain shower. Because of the way a Fast-Dry court is structured, water is absorbed through the surfacing and into the base like a blotter. The slope of the court then allows excess water to run off, leaving the court moist and ready for play. Environmentally safe surface: Fast-Dry is made up of natural, crushed, green stone, leaving no chemicals or toxic waste of which to dispose. The surface also solves run-off control problems, since it absorbs water as effectively as the original sod it replaced.
---
[ Home ] [ Aerobics ] [ Equipment ] [ Fitness ] [ Tennis ] [ Racquetball ] [ Aquatics ] [ Massage ] [ Locker Room ] [ Yoga ]