[ Home ] [ Aerobics ] [ Equipment ] [ Fitness ] [ Tennis ] [ Racquetball ] [ Aquatics ] [ Massage ] [ Locker Room ] [ Yoga ]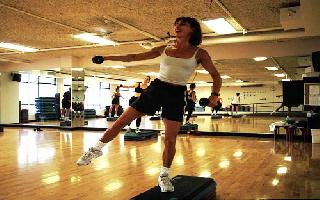 Class Descriptions
Group Exercise is one of the most popular activities at the Sport & Health Club. Led by our professionally trained instructors, our Group Exercise classes enable you to enhance your cardiovascular conditioning, strength training, and flexibility. Motivating music and the camaraderie of participants help to create a dynamic workout environment. We are dedicated to providing the latest in Group Exercise programming with a wide variety of classes, ranging from traditional to innovative, to appeal to participants at all fitness levels.
Introductory Classes
Introductory classes provide the fundamental concepts and basic moves for success. Focus is on relative terminology and on proper form, technique and execution.

INTRO TO STEP:
Includes the fundamentals of step training with an emphasis on terminology, form, and technique. It is a prerequisite to any step or combination class.

K-BO DRILLS:
Teaches the basics in movement skills with emphasis on stabilization, proper form, and execution techniques. Learn the basic punches, stances, and kicks.

STEP:
Low impact, moderate to high intensity workout using an adjustable platform. Easy to follow, no complex choreography.

ADVANCED STEP:
Low impact, moderate to high intensity step workout. Complex choreography; intensity and impact options provided.
Prerequisite: Step

STEP & SCULPT:
Two workouts in one: step and muscle conditioning. Resistance apparatus, e.g. hand weights, tubing may be used.
Prerequisite: Step

INTERVAL STEP:
Moderate to high intensity workout that alternates periods of step with anaerobic propulsion moves on or off the step, e.g. runs, jumps, and squats.
Prerequisite: Step

DOUBLE/MULTI STEP:
Step workout that utilizes movement between and onto two or more platforms. Advanced choreography.
Prerequisite: Advanced Step

[ Home ] [ Aerobics ] [ Equipment ] [ Fitness ] [ Tennis ] [ Racquetball ] [ Aquatics ] [ Massage ] [ Locker Room ] [ Yoga ]
News

Racquetball
Aerobics:

Tennis:

Calendar