[ Home ] [ Aerobics ] [ Equipment ] [ Fitness ] [ Tennis ] [ Racquetball ] [ Aquatics ] [ Massage ] [ Locker Room ] [ Yoga ]
Racquetball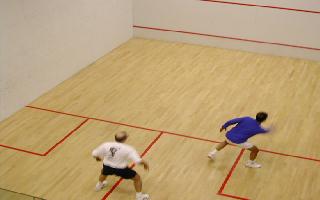 Types of Games
Racquetball may be played by two or four players. When played by two it is called "singles," and when played by four, "doubles."
Description
Racquetball, as the name implies, is a competitive game in which a racquet is used to serve and return the ball.
The specifications for the standard four wall racquetball court are:
Dimensions:
The dimensions shall be 20 feet (6.10 m) wide, 20 feet (6.10 m) high, and 40 feet (12.20 m)
long, with back feet (3.65 m) high.

---
[ Home ] [ Aerobics ] [ Equipment ] [ Fitness ] [ Tennis ] [ Racquetball ] [ Aquatics ] [ Massage ] [ Locker Room ] [ Yoga ]
News

Racquetball
Aerobics:

Tennis:

Calendar